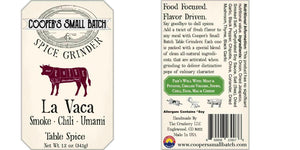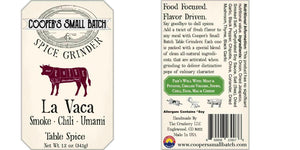 On Sale
La Vaca Spice Grinder
Say goodbye to dull spices. Add a twist of fresh flavor to any meal with Cooper's Small Batch table grinders. Each one is packed with a special blend of clean all-natural ingredients, that are activated when grinding to deliver distinctive pops of culinary character.
Flavor Profile: Smoke, Chili, Umami
Pairs Well With: Meat & Potato's, Grilled Vegetables, Stews, Chili, Eggs, Mac & Cheese, Game Meat,
Is this a gift? Make sure to leave us an Order Note at checkout!