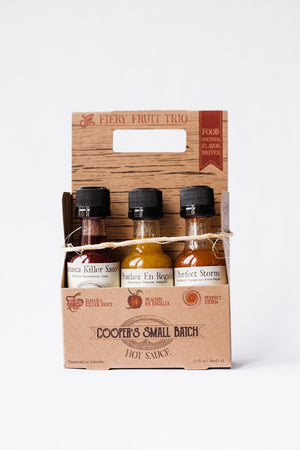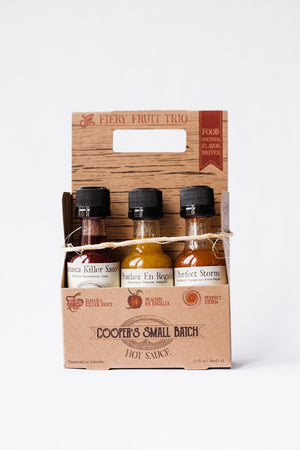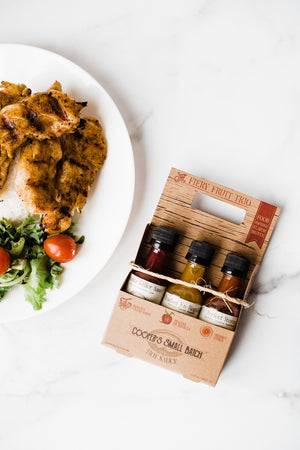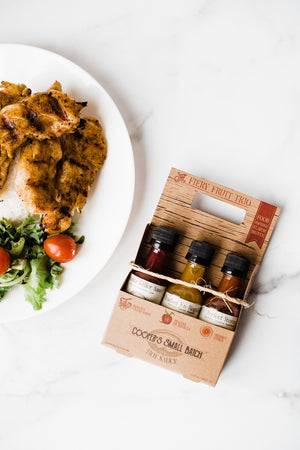 On Sale
The Fiery Fruit Trio
Hot Sauce Variety Pack – this mini gift set makes a great gifts for chefs! Our chef-made hot sauces are food focused and flavor driven, so they make the best gifts for spicy food enthusiasts. Our fruit hot sauce variety pack includes three 1.7oz bottles and TSA approved size.
Jamaica Killer Sauce: Don't be fooled by her pretty pink facade. Jamaica Killer Sauce may lead with succulent strawberry, lime and hibiscus, bu soon, her sweet Habanero heat slithers up you tongue.
Heat Scale: Hot
Peaches En Regalia: Peaches En Regalia is an explosive improvisation of a simple melody of Peaches, Habanero peppers, and the powerful aroma of Rosemary. A sweet heat frenzy that pairs well with cheese, seafood, cured meats and fried food.
Heat Scale: Mild/Medium
Perfect Storm: A cooling breeze of Orange and Pineapple swirls in the eye of this storm. A zing of Cranberry adds a tart edge before spicy ghost peppers turn up the heat, creating The Perfect Storm fruit hot sauce.
Heat Scale: Hot
Every bottle is lovingly handmade with the best ingredients, in Denver, CO. Always all-natural, gluten, and preservative free. Shake well and must refrigerate after opening. Separation of sauce is natural.
Is this a gift? Make sure to leave us an Order Note at checkout!